'Sticky Fingers Club' is a performance about failing, where the characters are the background. Notoriously on the fourth place, competing with the unrivalled Meryl Streep fighting for an Oscar. Facing constant defeat, they create a space of celebration where they are the stars. On their own terms, they celebrate being imperfect, supporting each other and challenging each other. Among the expressive characters there is an opera singer who loves music without reciprocity, a neurotic lady, an out-of-date star and a dancer who was never able to dance a solo scene.
Tickets >>> here
The performance, both in the sphere of movement and in the expressive, frontal "attitude" of the performers, refers to queer and ballroom culture and vogue dance itself. Here, for social exclusion and non-normativity, a space is opened to reveal colorful identity. Pop-culture references to the queer mainstream, popular fashion shows, or the Bohemian Rhapsody of Queen, giving 'Sticky Fingers Club' a huge dose of humor and self-irony. The performance deals with the wider problem of failure, and the consequent of exclusion and forgetfulness, without resorting to generalizations or moralizations. It uses theatrical and choreographic tools; thus, it is difficult to pigeonhole and classify it. By undermining social norms, it becomes a critical choreography.
"The performance is a witty, self-ironic parade of losers, not devoid of bitter aftertaste. It touches the subject contrary to success – failure, or rather the sensitive issue of being "right behind". Right behind the winner, right behind the podium, just below the line. That annoying, hitting point of being in a narrow group of nominees, but ultimately forced to give up a sense of style, and finally forgotten, because who remembers about the runner-up, or who reached the finish line fourth?"
Natalia Szafrankiewicz | taniecPOLSKA.pl
I almost got the flowers and I almost knew what the champagne tasted like.
I mistook the brake for gas.
I am the first to be out of the podium.
I overtook all those who are behind me.
I almost have a reason to be proud.
I got lost in the same place again.
I almost got a standing ovation.
Concept, choreography, performance
Daniela Komędera-Miśkiewicz, Dominika Wiak, Dominik Więcek, Monika Witkowska
Dramaturgy support
Konrad Kurowski
Lighting director
Krystian Koźbiał
Music
Przemek Degórski
Costumes using designs by
Krystian Szymczak, Edward Kuzmich, Roman Marchewka.
Producers
Gdańsk Dance Festival / ŻAK Club, Lublin Dance Theater Premiere: 03/09/2020 / 12th Gdańsk Dance Festival
The performance received the Zygmunt Duczyński Award during the 55th Review of Small Theaters KONTRAPUNKT 2021 in Szczecin.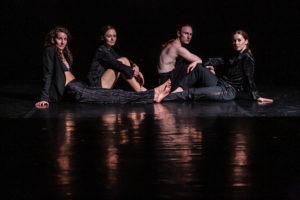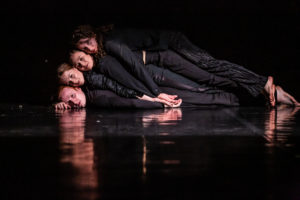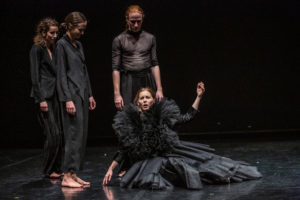 "Sticky Fingers Club" is presented within the framework of the KTO Theatre's project called Four Shades of Theatre and co-financed from the funds of the European Economic Area (EEA) Financial Mechanism 2014-2021, Programme "Culture", Outcome 2: "Access to Culture and Art Improved".